Original Star Trek
women's costumes and hair styles
Season Three
continued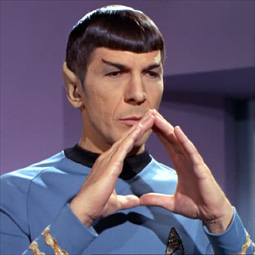 "Way to Eden," tie-dye, hippie, Luddidte espisode with musical accompaniment,
was widely derided as a poor show with a weak script and execrable songs;
but it showed that the writers were willing to confront tough, topical issues,
such as whether technology is wholly a good thing.
The episode featured costumes which reflected how the establishment viewed the counter-culture:
barefooted, face-painted, bright-colored, flower-powered, but basically middle-class kids.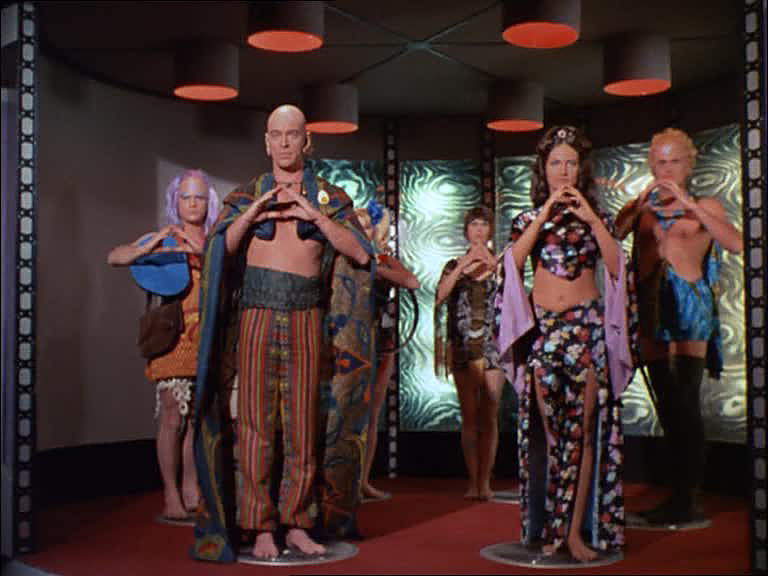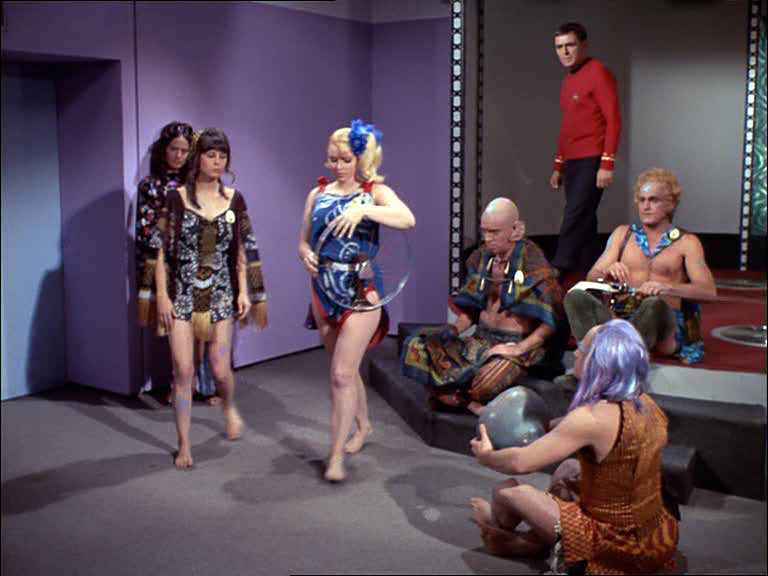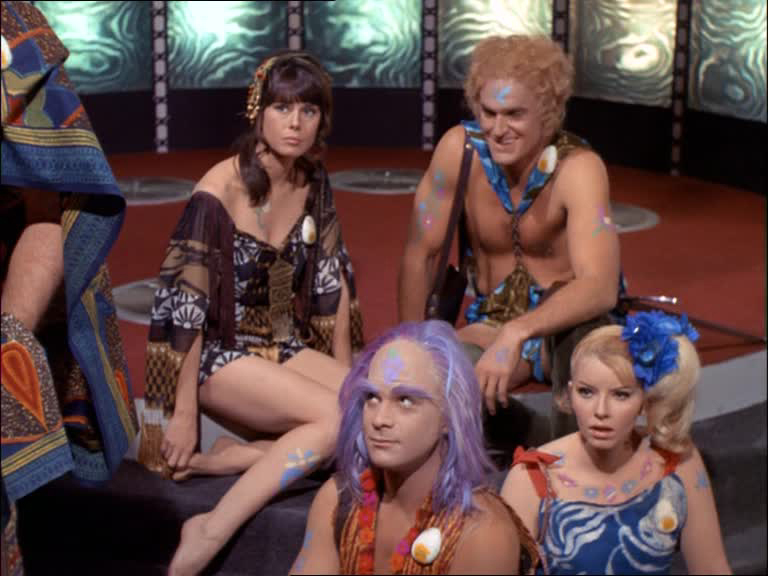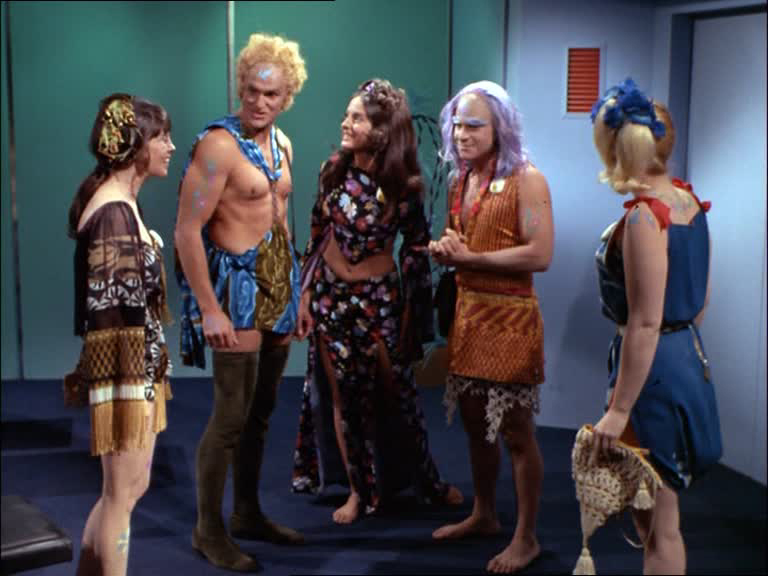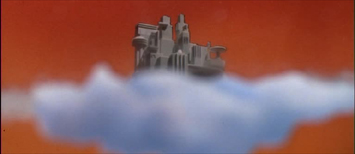 "The Cloud Minders" featured actress Diana Ewing as Droxine
in a shiny, pleated, flowing, blue-green gown which is simply stunning;
as is Miss Ewing's long, flat, belly.
My vote for best gown in the galaxy.
BTW, the story was about prejudice, inequality,
and the haves oppressing the have-nots;
couldn't be more tough or topical today as well.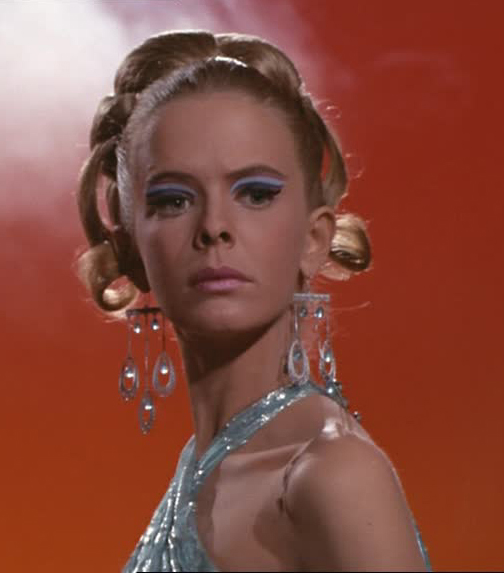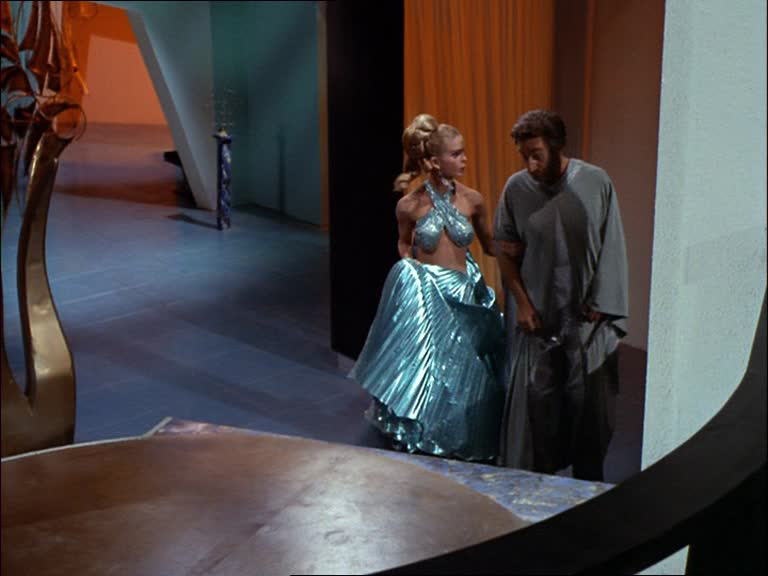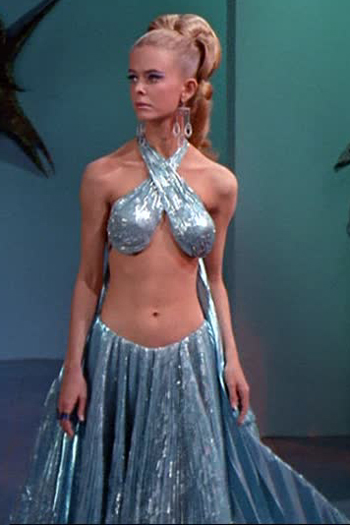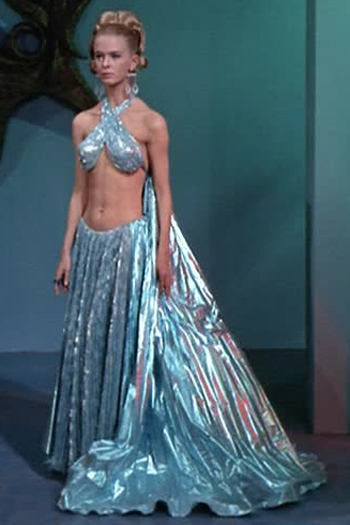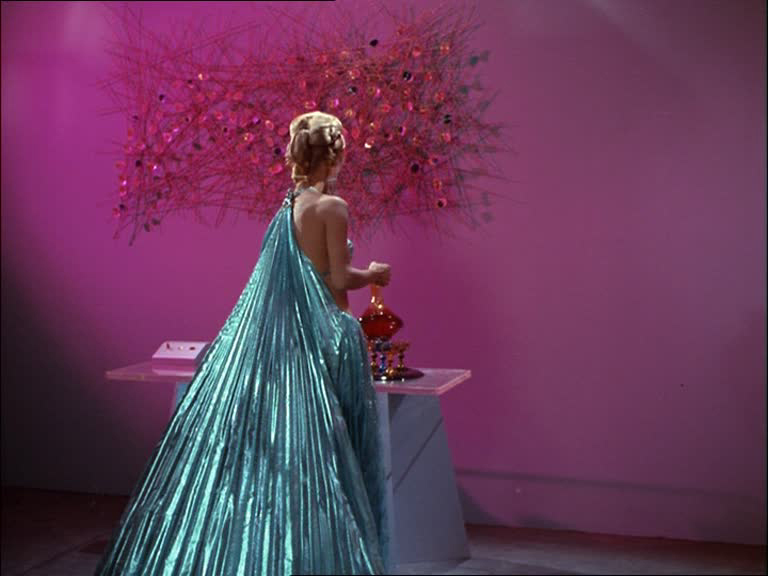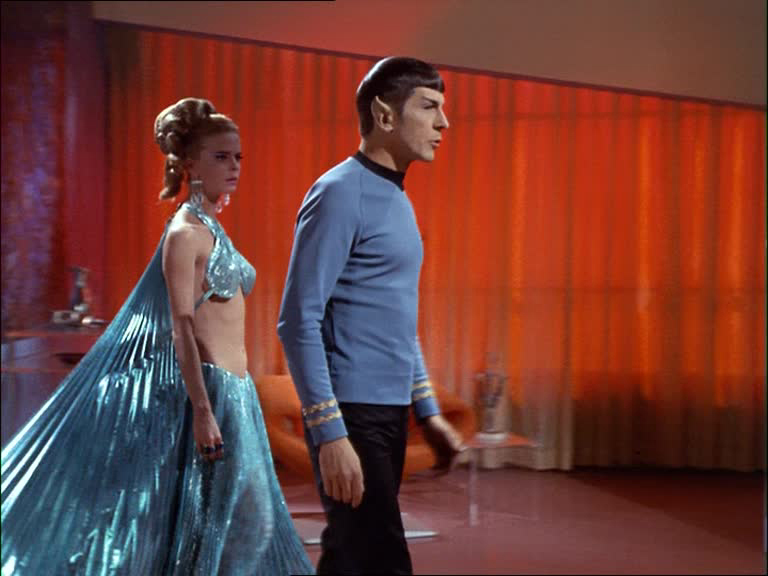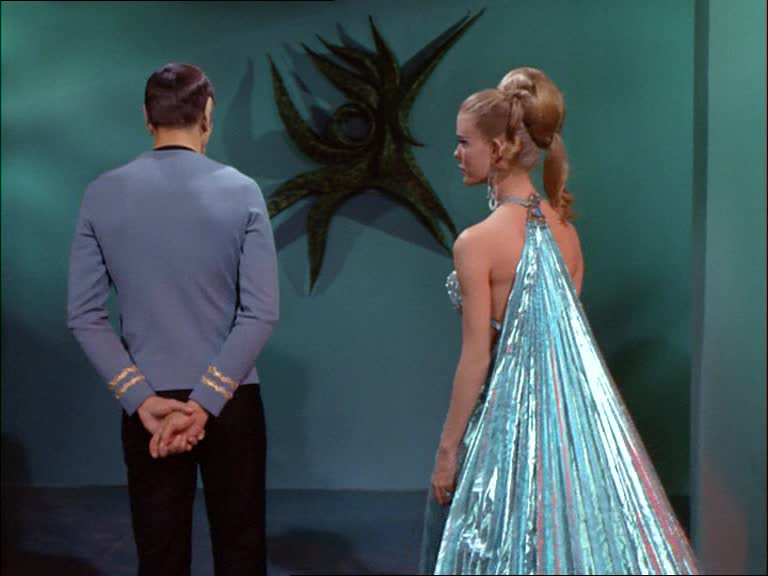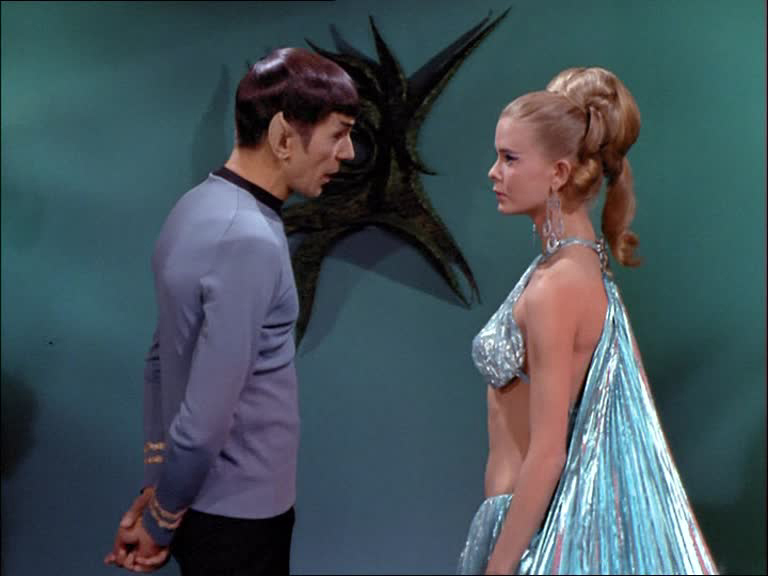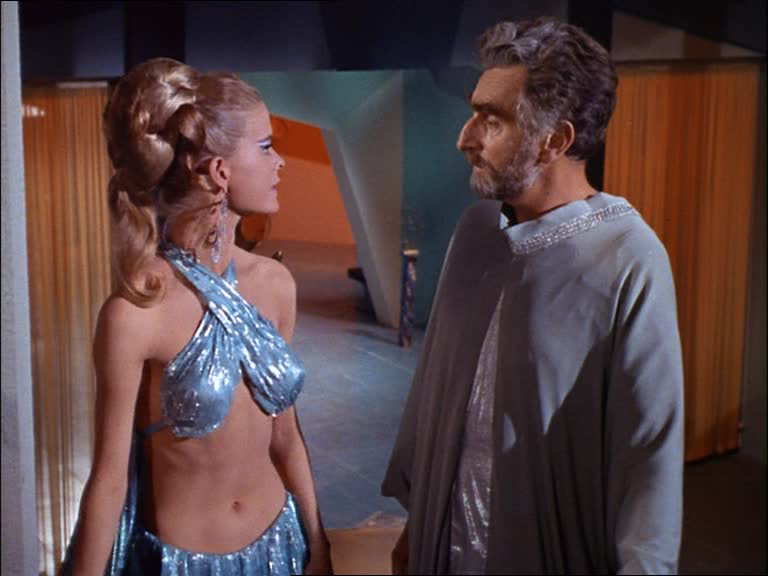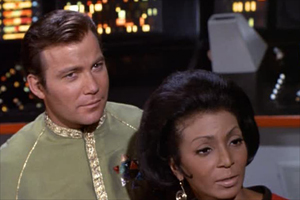 Mariette Hartley played the character Zarabeth in "All Our Yesterdays."
She appeared in numerous tv shows and films, including Gunsmoke, The Rockford Files,
The Twilight Zone, M*A*S*H, and the Bob Newhart Show.
She won an Emmy Award for her role in Incredible Hulk (1978).
Here, she wears animal skins, so convincingly that even Spock is affected.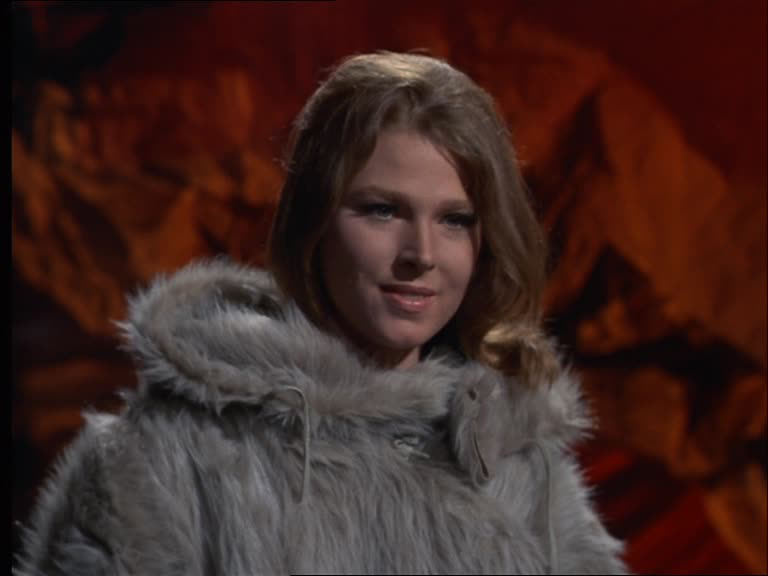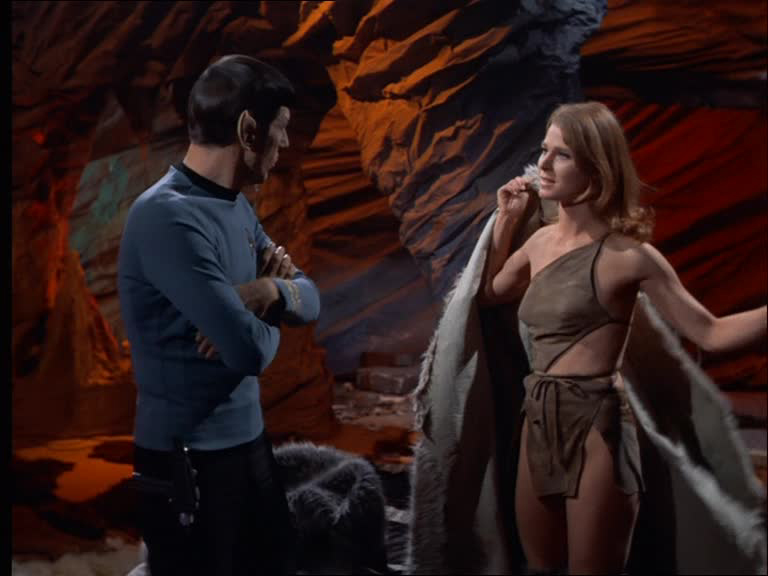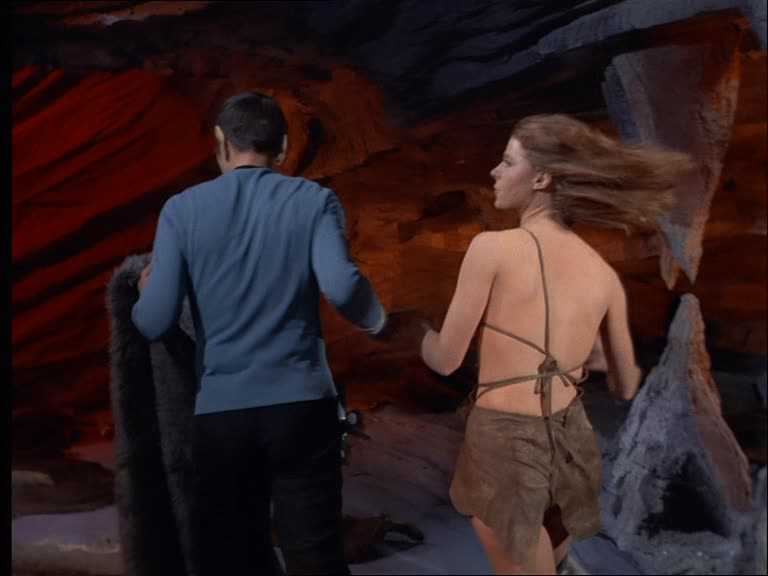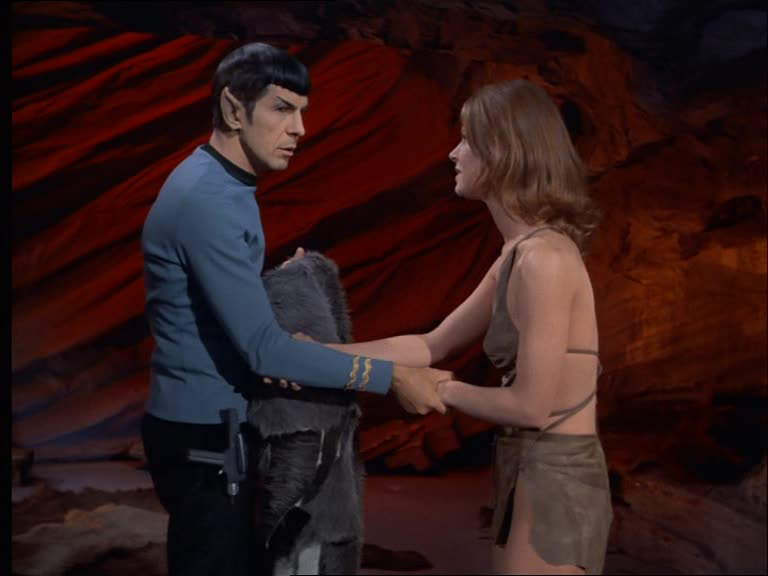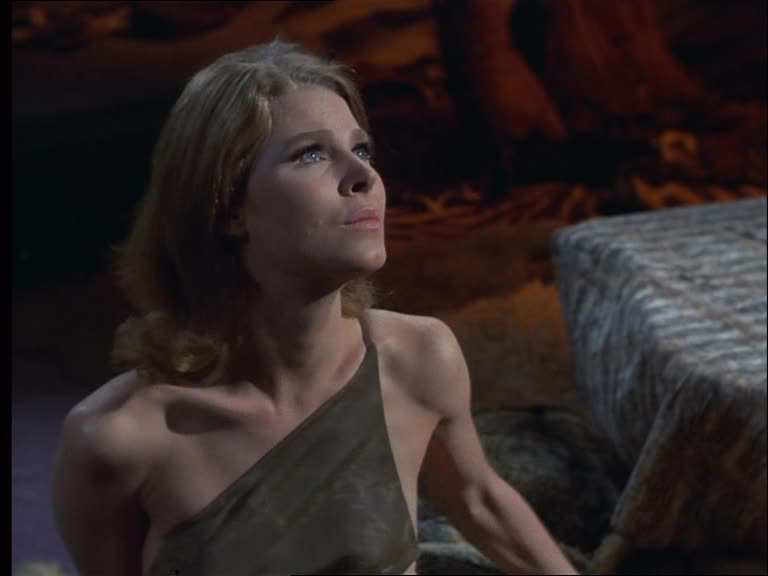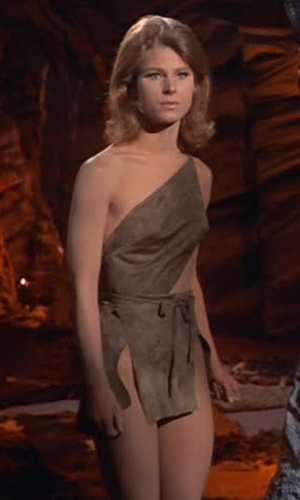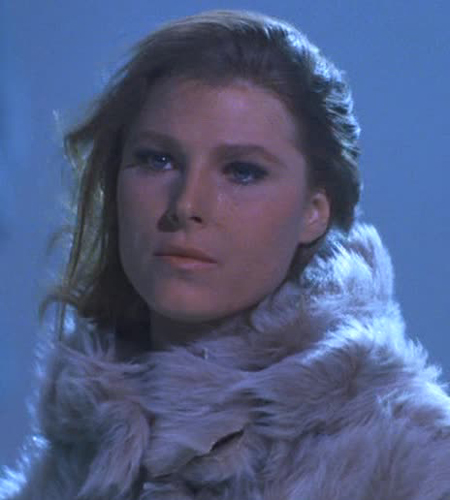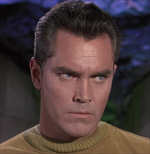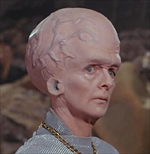 "The Cage," filmed in 1965, first aired in its entirity in 1988.
The women's crew costumes were markedly more sedate:
tunics and slacks. Mini-skirts came later.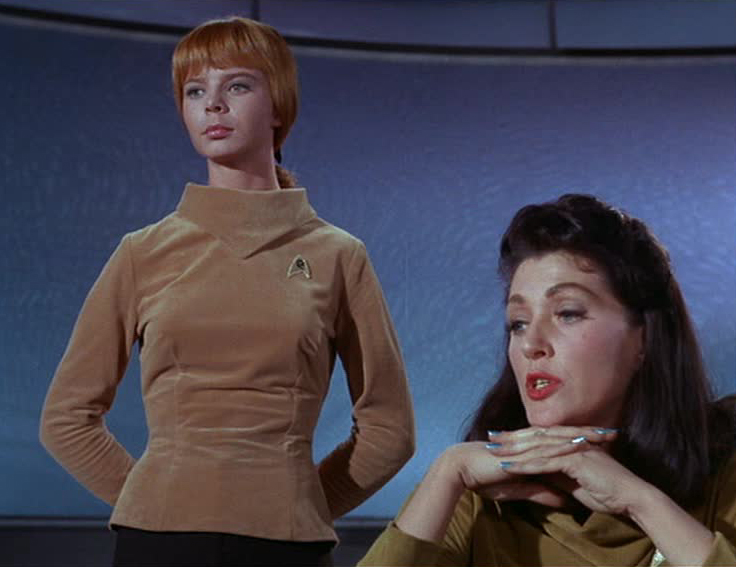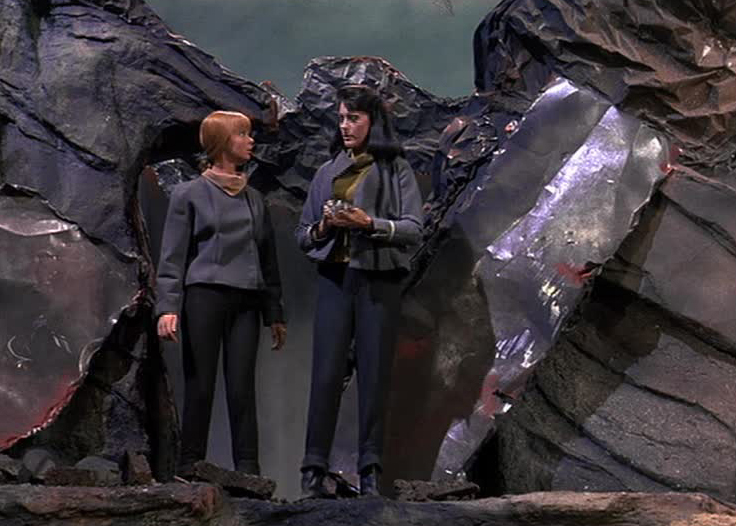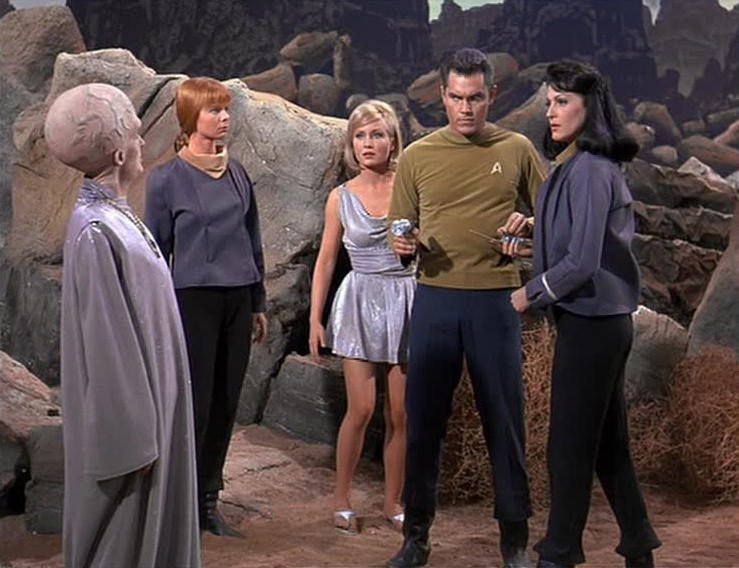 Susan Oliver as the captive girl, Vina,
wore a variety of costumes,
the most memorable being that of an Orion slave dancer.
Ms Oliver appeared on Broadway, and in many films and tv shows.
Her image as the green slave dancer featured in many ST credits
and became iconic of the original ST show.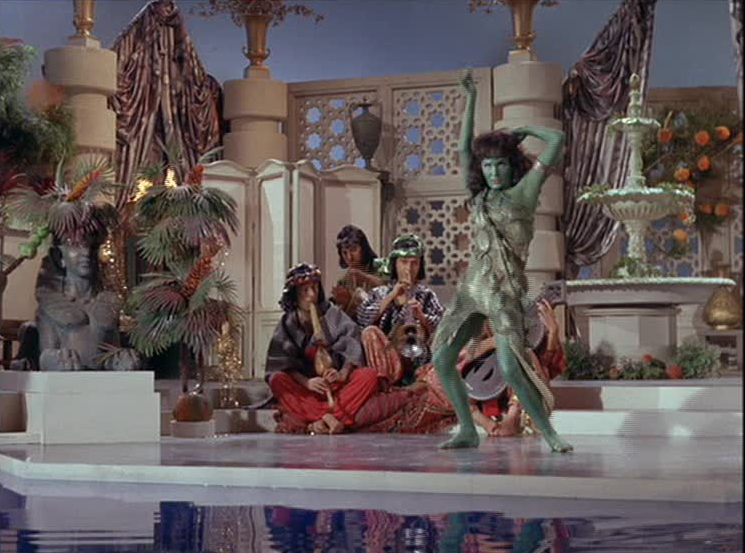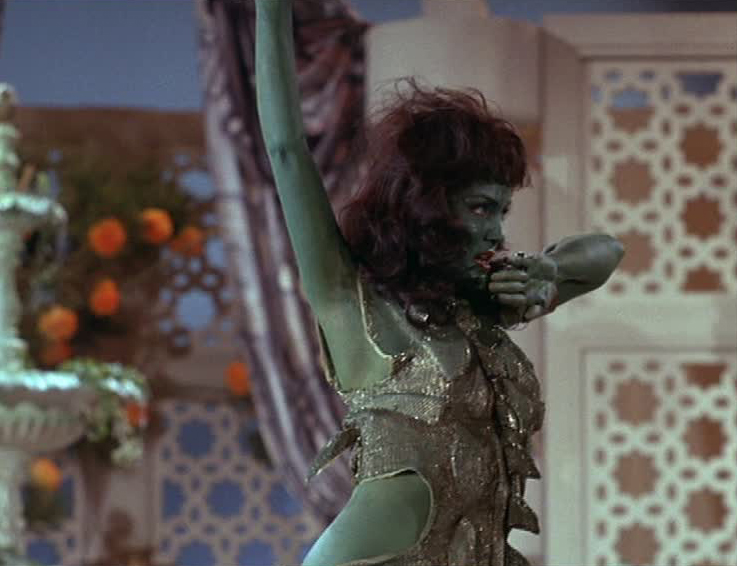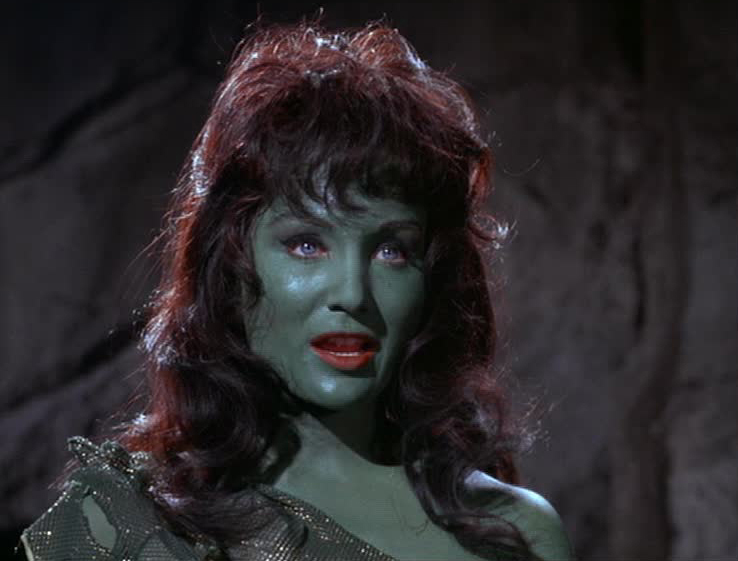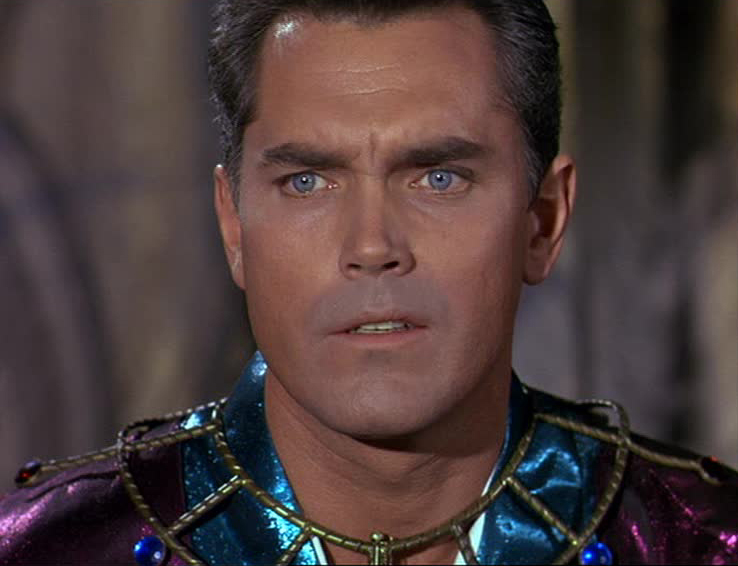 It is a tribute to the people who worked on the original show that,
despite severe budget restrictions, they created something of
such enduring appeal. Original ST was visually stunning,
and it was done without computer graphics.
On that note, thank you for watching.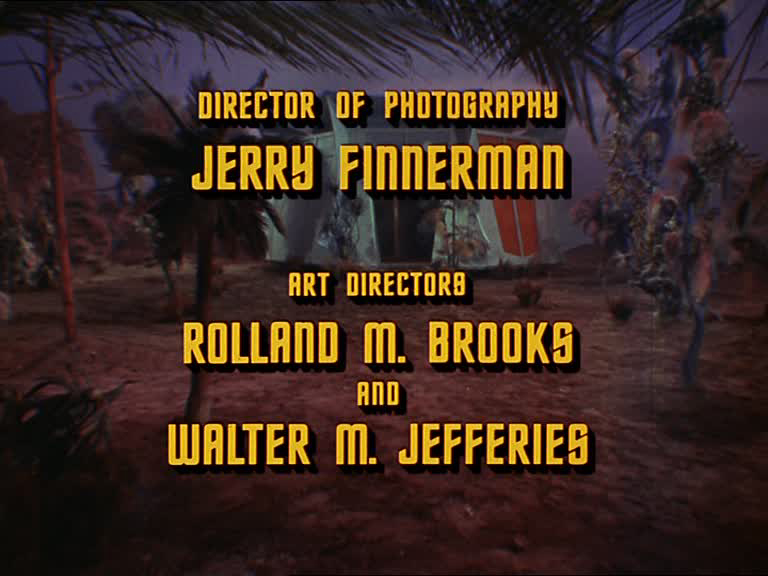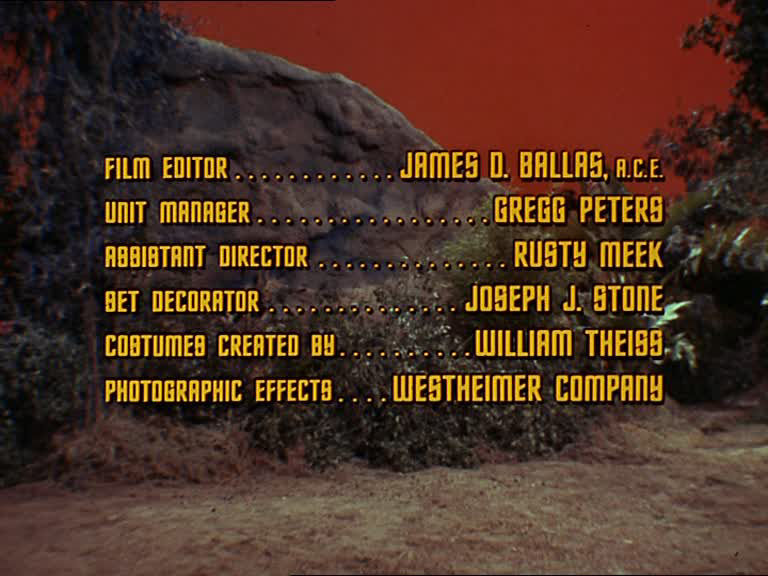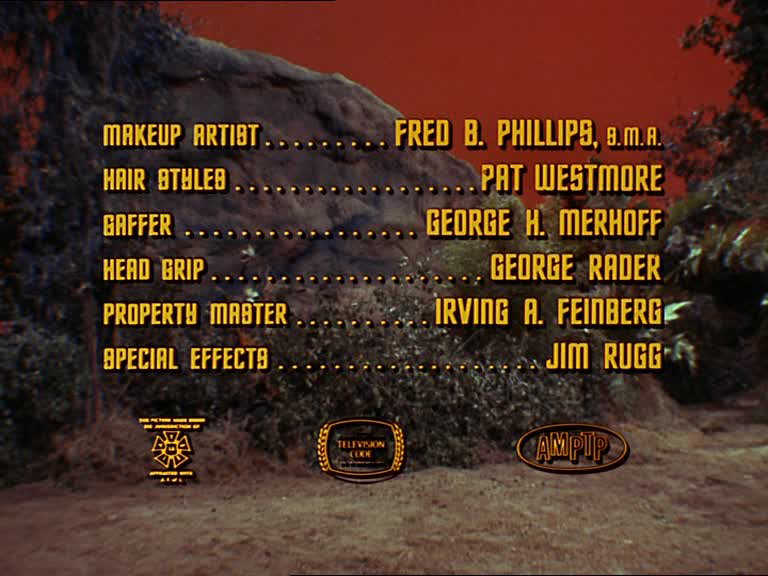 Season one features Click here

Season two features Click here

Season three features Click here